Dataset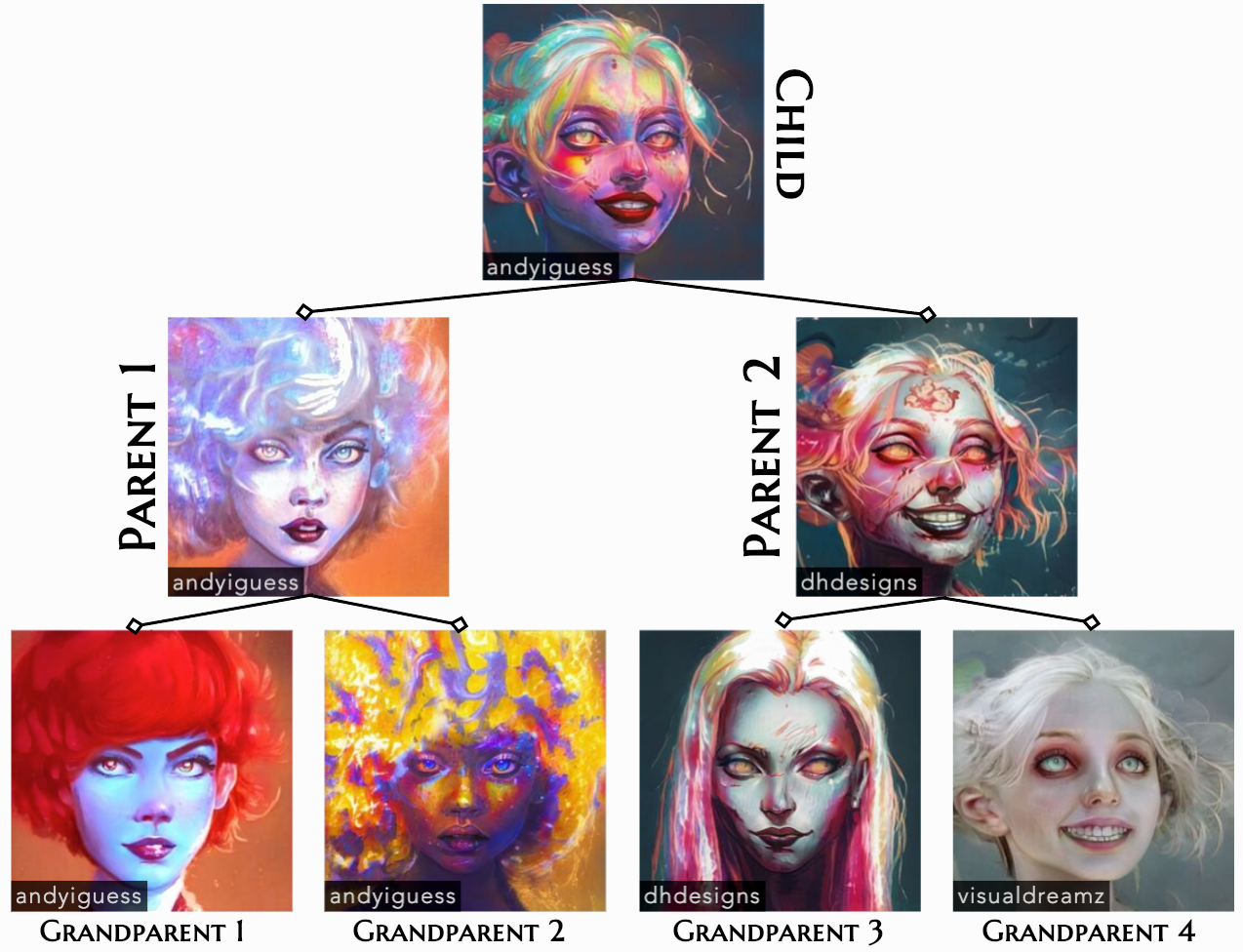 A sample lineage data up to 2 levels (Access the full tree via https://www.artbreeder.com/lineage?k=1fcdf872ec11c80e955bb5c1.) The creators of the images are annotated with labels
One of the most popular GAN-based creativity platforms is Artbreeder. The easy-to-use interface of the platform attracted thousands of users and enabled them to generate over 70 million GAN-based images. ArtBreeder helps users to create new images using BigGAN [4] or StyleGAN based models where users are able to adjust parameters or blend different images to generate new ones. Users can breed new images from a single one by editing genes such as ages, gender, ethnicity or create new ones by crossbreeding multiple images together. The unique ability of the crossbreeding functionality allows generated images to have lineage data where the ancestors of the generated image can be tracked in a tree-based structure.
The lineage structure of images generated with Artbreeder opens up a wide range of possible applications, but also presents unique challenges. The lineage information provides a tree-like structure in which one can trace the parents, grandparents, and further ancestors of a given image. However, it is not entirely clear how such a structure can be used in GAN-based models. For example, how can we generate a child image based on a list of its ancestors? One could try to use image-to-image translation methods such as Pix2Pix or CycleGAN and use any ancestor to generate the child image (e.g., feeding Parent1 and generating Child1 in Figure. However, this approach results in a significant loss of information since only one ancestor can be used (e.g., Parent2 or the grandparents are considered).
In this paper, we propose a novel image-to-image translation method that takes multiple images and their corresponding lineage structure and generates the target image as output. To propose a general solution, our framework takes a graph structure, considering the tree structure of lineage data as a sub-case. To the best of our knowledge, this is the first image-to-image translation method that uses a graph-based structure.