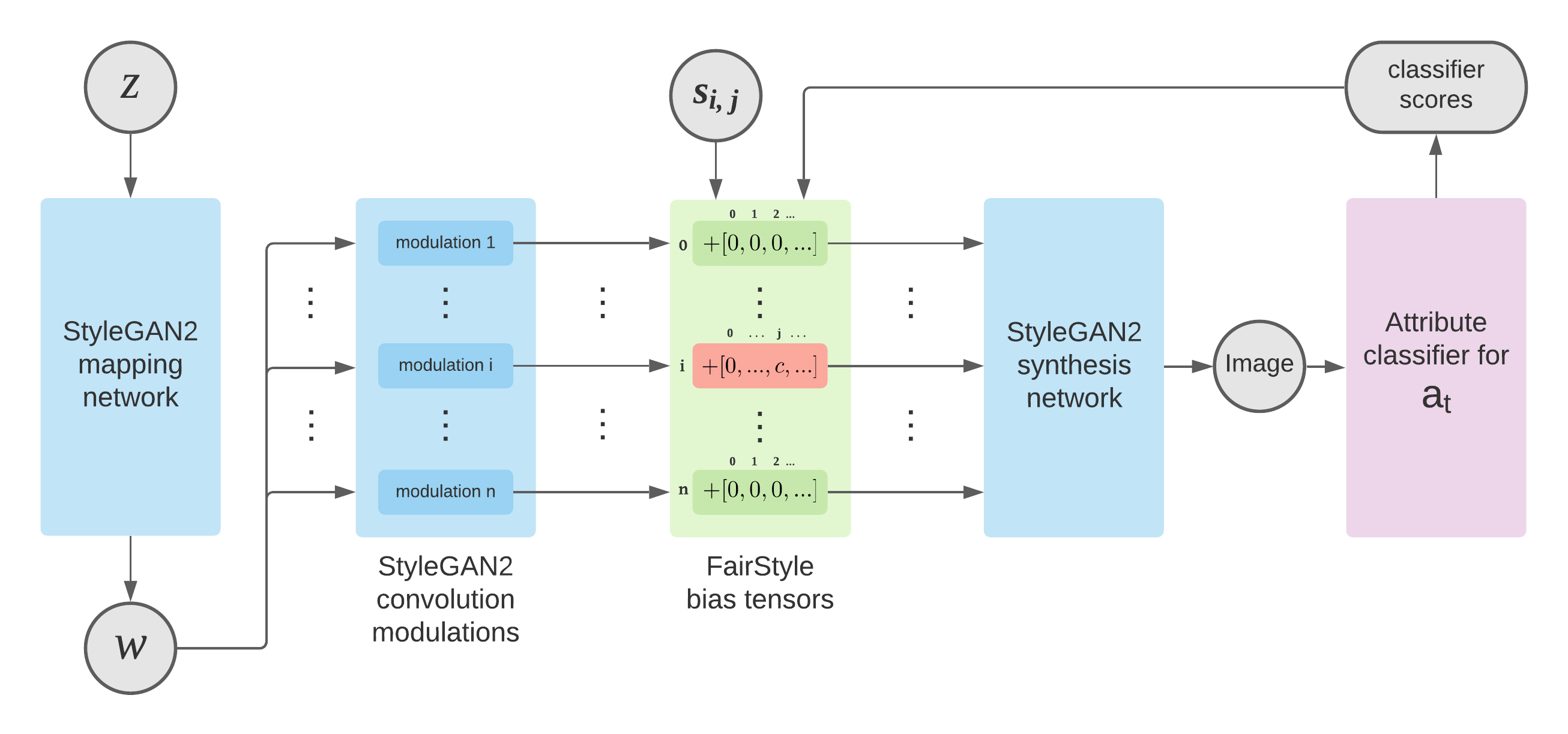 An overview of the FairStyle architecture, z denotes a random vector drawn from a Gaussian distribution, w denotes the latent vector generated by the mapping network of StyleGAN2. Given a target attribute at, si,j represents the style channel with layer index i and channel index j controlling the target attribute. We introduce fairstyle bias tensors into the GAN model, in which we edit the corresponding style channel si,jfor debiasing. The edited vectors are then fed into the generator to get a new batch of images from which we obtain updated classifier results for at. The fairstyle bias tensors are iteratively edited until the GAN model produces a balanced distribution with respect to the target attribute. The de-biased GAN model can then be used for sampling purposes or directly used as a generative backbone model in downstream applications.

Our main contributions are as follows:
We first propose a simple method that debiases the GAN model with respect to a single attribute, such as gender or eyeglasses.
We then extend our method for jointly debiasing multiple attributes such as gender or eyeglasses.
To handle more complex attributes such as race, we propose a third method based on CLIP, where we debias StyleGAN2 with text-based prompts such as 'a black person' or 'an asian person'.
• We perform extensive comparisons between our proposed method and other approaches to enforce fairness for a variety of attributes. We empirically show that our method is very effective in de-biasing the GAN model to produce balanced datasets without compromising the quality of the generated images.
To promote fair generative models and encourage further research on this topic, we provide our source code and debiased StyleGAN2 models for various attributes at http://github.com/catlab-team/fairstyle.